Make Bookcases Pop With Contrasting Backings!
Updated at: 11/14/2013 10:04 AM
By: Networx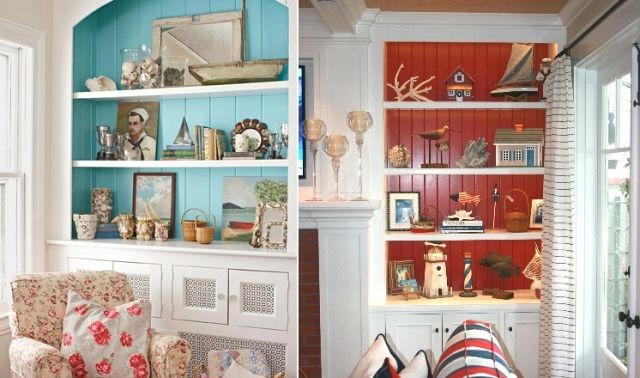 I'm really excited about the emerging trend I'm spotting with bookcases, cabinets, shelving, and similar furniture designed for storage and display: painting, wallpapering, or otherwise treating the back walls in contrasting colors to make some serious pop without going overboard. If you aren't onto it yet, let me introduce you! Whether you're an owner or a renter, someone struggling with a dark, oppressive kitchen or trying to get just the right look in your light-filled sitting room, there's probably something in this fun new trend for you.
With bookcases, shelving, and glass-fronted cabinets, all too often the tendency with painted objects is to paint them in a uniform color. It makes them kind of blah and drab, and more than that, it can mute the items displayed inside. If you have a dark room, it can also be a real problem: dark shelves equals more darkness, while shelves painted an alarming white can stand out like a sore thumb.
That's where painting the back, and sometimes the sides as well, comes in. By picking a nice coordinating contrasting color, you can subtly change the look and feel of a room while setting displayed objects off to their best advantage. Suddenly, a bookcase can turn into a showcase that will feel like a whole new piece of furniture, and the only cash you'll need to lay out is on paint.
Choose a color that coordinates well with the room's aesthetics and the look you want. Maybe that's a bold, aggressive one, or a delicate pastel. If you're trying to lighten up a dark room, you might want to go bright and assertive, but avoid neons and brassy colors, which will stand out too much. You can also play around with color reversals; leave the inside white and paint the outside edge in another color, for example, for a distinctive look.
Interior painting like this can be used to create an entire accent wall, if you want to go that far, or you can go more modest with a standout piece of furniture. For china cabinets and similar display pieces, painting like this is a definite recommendation, because it will showcase your beautiful collection. It can also brighten up a children's room, create a splash in the foyer, and more!
Try mixing and matching colors to avoid uniformity, as recommended by This Old House. They took cubed shelving and painted cubes in contrasting colors to totally transform it, and the room. Maybe you want to try an ombré shading pattern, starting dark at the top and working to a lighter version of the same color at the bottom, or vice versa (tip: get paint samples of a color's full range to do this the low-cost way). Pull together a room with the right color, make older furniture feel less stuffy, help a bookcase pop out, or add depth to a seemingly shallow shelf with a deep jewel tone.
The great thing about this interior painting trend is that it's easy to play with updates in a weekend or on your spare time, and it doesn't involve a huge investment. If you want to change things up a little around the house, you can start small and see where it goes!
Don't want to paint? You can collage or apply wrapping papers and artisan papers. Peel and stick drawer liners  or wallpaper are also a quick way to add color and they can be especially great for renters who might want to dress up built-ins without violating the lease. If you're working with an Orlando carpenter or another building professional on building or rehabbing builtins, make sure to discuss interior finishes before you get going.
Katie Marks writes for Networx.com.
View original post
.